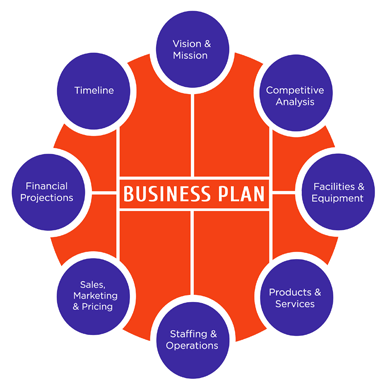 BUSINESS PLAN DEVELOPMENT
If you are starting a new business or want to grow your current business, having a good business plan is essential.  A business plan outlines your vision, analyzes the feasibility of the business and serves as a sales document if you are looking to attract investors or bank financing.
As business and health club industry professionals, we can review your plan and provide feedback, complete specific portions of the plan, i.e. the feasibility study, a marketing plan, financial projections, or work in collaboration with you to ensure your vision and ideas are represented. If requested we can also develop and write the entire business plan.  Highlights of what we include in a comprehensive business plan are outlined below.
1. Executive Summary
The Executive Summary provides a summary of the key aspects of your plan: your vision and value proposition, facility size and location, what services the business will offer and why people will want to buy them, a synopsis of the competition, expected financial performance such as income, profits, cash flow and return on investment as well as the amount of money you are looking to raise by investors and how it will be used.
2. Feasibility Analysis
The feasibility analysis provides information on the potential viability of the business.  Based on the location of the business, it provides readers with an understanding of the target market, market potential, market structure, competition, margin potential and risks associated with developing and operating the business.
3. The Team: Owners, Management and Staff
Who is going to be part of your team, what expertise and skills they will bring and the roles they will have along with an outline of the organizational structure are essential parts of any business development process and plan. What positions will you need to fill and what about your human resource systems and company culture will enable you to attract and retain top employees?
4. The Business Model
Here is where the nuts and bolts of the business are presented.  Some of the areas of focus include: a detailed description of the business concept, trends in the industry and future possibilities, products and services you will be offering as well as which of them will be revenue generating, and the cost structure of the business including staff compensation, rent and maintenance.
Learn how we can help your business
5. Design and Build-Out
What is your vision for what the club will look like? Who is going to design and build it? What equipment will you have? If you have chosen an architect or builder, we would want to include that information along with their experience and special expertise.
6. Pricing, Marketing and Sales
One of the most critical elements of a successful venture is developing a comprehensive pricing and marketing  plan. In your plan you'll want to include a pre-opening, grand opening and post-opening marketing strategy utilizing a website, social media, and traditional and grassroots marketing.
As important as it is to get prospective customers interested in contacting you, it is equally important to develop sales strategies that will turn these prospective customers into members and regular users. Questions to consider are: will you have a sales team, and if so, how will they be compensated, what technology will you use to track prospects, will memberships be sold on line, how will you set and monitor sales goals and what kind of sales training will your staff receive?
7. Financial Modeling and Projections
Three-year forward-looking profit-and-loss, balance sheet and cash-flow statements are a must as is a break-even analysis that shows how much revenue you'll need to cover your initial investment. We'll want to make sure that information pertaining to return on investment and all assumptions that were used to build the financial projections are also included in the plan.
Learn how we can help your business